LET'S TALK SUSTAINABLE DEVELOPMENT, SET GOALS, MAKE A CHANGE!
Join the City of Kitchener and the Waterloo Region Small Business Centre for progressive discourse on issues affecting the community. We invite you to get involved and learn about the 17 SDGs and how we can solve social, environmental, and economic sustainability problems.
This networking event takes place on Tuesday, November 15th, at Kitchener City Hall. We will introduce you to local organizations and entrepreneurs making an impact in our community and the United Nations Sustainable Development Goals (SDGs).
Our focus for this event is to discuss means by which we can enhance decent work. Creating opportunities for everyone to get a job that is productive and delivers a fair income, fosters security in the workplace and social protection for families. Aiming to provide decent work for all also affords better prospects for personal development and social integration, positively impacting the economic growth in our region.
All are welcome and encouraged to attend! We strongly believe the Sustainable Development Goals are inclusive for all community members.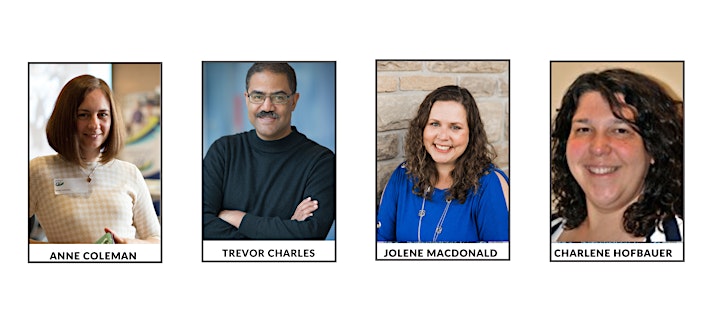 SPEAKER BIOGRAPHIES
Anne Coleman , Campaign Manager for Ontario Living Wage – Waterloo Region
Anne Coleman first became involved in the living wage conversation in 2014 when she began working with Living Wage Waterloo Region. When the Ontario Living Wage Network (OLWN) launched its provincial employer certification program Anne was pleased to expand the work she'd been doing to support employers right across Ontario. In her role as Program Manager she works with local communities to update living wage calculations and support employers through the living wage certification process. Anne believes in reducing poverty through paid work and is dedicated to raising wages in Ontario.
Trevor C. Charles, Ph.D., is Founder of the company Metagenom Bio,
Trevor is the Executive Director of the LiftOff Black Entrepreneurship Program, Director of Waterloo Centre for Microbial Research, and Professor of Biology at the University of Waterloo. He was trained as a microbiologist and bacterial geneticist, with B.Sc. Microbiology from University of British Columbia, Ph.D. Molecular Biology, McMaster University, and Postdoc from University of Washington. He has held faculty positions at both McGill University and University of Waterloo. His work is situated within the context of Circular Bioeconomy.
Jolene MacDonald, Founder and Creative Director, Accessibrand
Accessibrand™, Canada's first accessibility focused design, marketing and communications collective that all have lived experience with disability and inclusion. For over a decade, she has known that people with disabilities needed a different work model to be able to give their full potential to their careers. Accessibrand™ is based on Jolene's 20+ years of knowledge in the graphic design and marketing industry, as well as her 19 years as a successful entrepreneur and award-winning designer. Top that all off with her own personal disability experience, and out comes an innovative model for a design, marketing and communications agency.
Charlene Hofbauer, Executive Director of the Workforce Planning Board of Waterloo Wellington Dufferin.
With over 13 years' experience in workforce planning, Charlene has developed relationships with partners looking to try unique solutions to help the community address labour market concerns and even tackling some of the bigger ones that go beyond WWD. She enjoys sharing research and trends in easy-to-understand pieces and seeks to connect the dots for governments, employers, students, and jobseekers alike.
ADDITIONAL INFORMATION
Parking: On-street parking: There are more than 300 free, two-hour street parking spaces in downtown Kitchener. You cannot park in an on-street parking space twice within five hours.
Electric vehicle charging: There is an electric vehicle charging station on-street on Francis Street at the corner of Joseph Street.
For more parking information: https://www.kitchener.ca/en/parking/find-a-place-to-park.aspx#City-Hall
Refreshments: Water will be served. Additionally, situated on the first floor of the City of Kitchener City Hall, Williams Fresh Café offers a selection of snacks plus warm and cold beverages for your convenience. The café is open until 8:00 pm on weekdays.